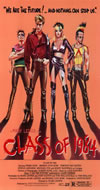 1982 - 98m.
Canada

When I sit around and reminisce about the good old days of movies, I always remember the ones I saw when I was between 9 and 14. This was the early 80's and it was a time when political correctness was not yet a common term in our language and when you rented a movie from the video store anything could happen. It was also a time for discovery for me and when I first developed an affection for punk rock and B-movies. When I reflect back on those times, one of the movies that always comes to mind is Class Of 1984.
Perry King stars as Andy Norris, a high school teacher from Nebraska who has transferred to a big city school. Norris is shocked to find both the students and teachers carrying weapons, drugs running rampant, and a general lack of respect for authority on the part of the students. Soon, Norris makes enemies with the punkish, drug-pushing, slightly psychotic Peter Stegman and his gang. The violence escalates as Norris and Stegman push each other's buttons until eventually Stegman goes too far and it is up to Norris to end his reign of terror permanently. Man, I sound like I am writing a cheesy press kit for this flick but it seriously has to be seen to be believed.
As I was watching this one for probably the 25th time, I began to realize what an idiot Norris was. It is interesting because back in the day, I looked at him as a sympathetic and almost heroic character as this lone teacher took on a gang of thugs. Now that I am a little bit older and wiser, however, I have realized that he is actually an obsessed, self-centered jackass who ends up bringing harm to everyone that he cares about from his own family to his friend to his entire band class. I am not sure if this was director Mark Lester's intention but I almost wanted somebody to give the guy a good beating. I know this is supposed to be an action movie but I am also supposed to want to root for the character. Timothy Van Patten's portrayal of the cool and crazy Stegman had me cheering against Norris at more than one point. This is one of the better teen villains of the 80's, if not ever. Some of the lines this guy spews out are classic and the way he beats himself up in a high school bathroom is disturbing and calculated. Where so many other villains in this type of movie get totally cheeseball by the end, Stegman remains powerful.
Aside from this minor gripe (and believe me it is minor), if you are looking for exploitation fun, this one has it all. Among other things we get a some punk chick nudity courtesy of Helena Quinton, stabbings, a hanging, dead bunnies (real - according to Lester), a guy high on angel dust falling off a flagpole, Roddy McDowall teaching biology with an interesting choice of motivation technique, a chubby Michael J. Fox, a death and dismemberment by table saw, and a live performance by Teenage Head.
Director Mark Lester has made some entertaining flicks in his time having also given us Roller Boogie, Truck Stop Women, Stunts, and Bobbie Jo & The Outlaw. Lester also ventured into a little more mainstream fare with Firestarter and Commando before returning to high school territory with Class of 1999, which although it is touted as a sequel to Class of 1984, is totally different in my mind. Writer Tom Holland went on to direct Child's Play and pull double duty on Fright Night. The theme song was performed by Alice Cooper and can be found on the "Zipper Catches Skin" album.
As for the gang members, most of them are still acting but have not had major careers. Van Patten has become an established TV director having helmed a number of episodes of The Sopranos among other things. I am surprised he didn't have more of a career as an actor as the only other things of note were a role in the basketball TV series The White Shadow and a lead role in the short-lived ninja series The Master with Lee Van Cleef and Sho Kosugi. Stefan Arngrim who played Drugstore was in Fear No Evil. I remember Keith Knight who played Barnyard from Meatballs and My Bloody Valentine. Neil Clifford, who played the gayly dressed Fallon, pretty much faded into obscurity. Finally, Lisa Langlois, who played the very hot Patsy was in Happy Birthday To Me and the killer roach movie The Nest. (Josh Pasnak, 6/18/06)
Directed By: Mark L. Lester.
Written By: Mark L. Lester, Tom Holland.
Starring: Perry King, Timothy Van Patten, Roddy McDowall, Merrie Lynn Ross.