---
Unsung Low-Budget Directors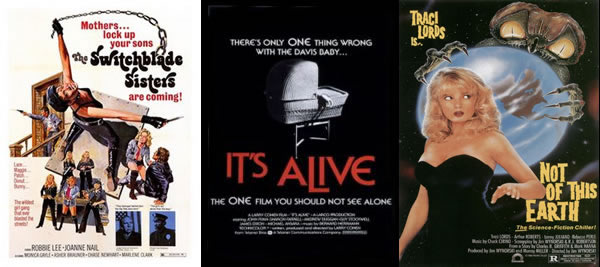 JACK HILL
Chris: One of many Roger Corman apprentices, Jack Hill started off doing uncredited work on the 1963 Jack Nicholson horror flick, The Terror before moving on to write and direct some of the best female exploitation movies around. He's responsible for the cult classic weirdo genre flick Spider Baby but it's his work with b-movie starlet Pam Grier that he'll be forever remembered for. Responsible for the beloved blaxplotation films Coffy and Foxy Brown, as well as the WIP (Women-In-Prison) sleaziness of The Big Bird Cage and The Big Doll House, Hill's career was fairly short lived but thanks to modern directors like Quentin Tarantino (who re-released his final film, 1975's Switchblade Sisters to theatres in 1996) his influence is still evident even today.
Josh: Like many great directors, Jack Hill got his start with Roger Corman. After a number of smaller directing gigs, Hill came up a crazy little movie called Spider Baby in 1968 that established him as a cult director. It wasn't until the early 70's that Hill really made his mark when he delved into the blaxploitation and women-in-prison subgenres and gave us some of the definitive examples of exploitation cinema. Pam Grier became a star thanks to Hill and her involvement in The Big Doll House, The Big Bird Cage, Coffy, and Foxy Brown. After this impressive run, Hill made The Swinging Cheerleaders which featured Rainbeaux Smith and Colleen Camp. His greatest moment came in 1975 with Switchblade Sisters which is one of my favorite b-movies of all time and combines exploitation elements with a good story and fun characters. A lot of b-movies contain one or two of these elements but rarely all three. He has not done much since but the great resume he left behind easily earns him a place on this list.
---
LARRY COHEN
Chris: Starting his career writing for television, and creating the most excellent 1960's sci-fi show "The Invaders", Cohen moved onto what's turned out to be quite an interesting film career from blaxploitation efforts like Hell Up In Harlem, smartly written horror flicks like It's Alive and God Told Me To, and recent Hollywood thrillers Cellular and Phone Booth. Much more prolific as a screenwriter than director, Cohen infused a lot of his efforts with biting social commentary, satire, and offbeat humour - which makes him a truly creative individual amongst the b-movie crowd.
Josh: Nobody films New York City quite like Larry Cohen. He obviously loves it and used to shoot on location as much as possible which gave his films a very distinct look. Cohen got started with the blaxploitation classic, Black Caesar, as well as its sequel. From there, he went on to make the creepy baby flick, It's Alive, along with two sequels which is probably what he is best known for in horror circles. Some of my favorite Cohen movies are the ones that are a little more out there such as Q: The Winged Serpent (about a killer flying dinosaur) and The Stuff (about a killer dessert that I always think of when I eat tofu). Cohen's movies tend to have a gritty feel to them but never get too serious about themselves which is an unusual combination. In recent years, he has been spending more time as a writer still delivering suspenseful fun in movies like Phone Booth and Cellular. He also wrote Captivity but we don't talk about that around here.
---
JIM WYNORSKI
Chris: With over seventy movies on his resume both good and bad, Jim Wynorski is a name any self respecting b-movie fan knows. Starting out his career working for Roger Corman editing together trailers for his company's films, Wynorski debuted behind the camera in 1985 with The Lost Empire and hasn't slowed down since. While his latter day input is suspect, you can't deny the entertainment value of such movies as Chopping Mall, Deathstalker II, Cheerleader Massacre, and Return Of Swamp Thing.
Josh: It was very hard for me to decide whether Jim Wynorski or Fred Olen Ray should make this list as there was only room for one of them. Personally, I have been a bigger supporter of Ray over the years but I feel as though Wynorski slightly edges out Ray in the quality of his films but it could have gone either way. When examining his filmography, you will find a number of campy and energetic films such as Chopping Mall and Hard to Die but I have a hard time thinking of one of these directors without thinking of the other as their styles are so similar. The most important thing about these guys (along with David DeCoteau) is that they were largely responsible for the scream queen craze of the early 90's that brought a smile the face of many teenage boys.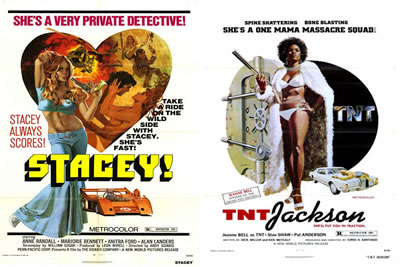 ANDY SIDARIS
Chris: Of the five names here, Andy Sidaris was probably the most consistent of them all. After 1973's Stacey, Sidaris made a career out of making cheesy spy movies starring various former Playboy Playmates with titles like Hard Ticket To Hawaii, Fit To Kill, and (his most well-known film) Malibu Express. Sidaris' films weren't rocket science but they usually guaranteed if you wanted a chintzy spy movie with dopey gadgets and plentiful big-breasted women you'd be more than satisfied. He also made it a family affair as his wife Arlene produced most of the films and his son Drew helmed The Dallas Connection and Enemy Gold. He passed away at the age of seventy-six in 2007.
Josh: Two of the key elements of b-movies are guns and babes. Andy Sidaris was fully aware of this and was the master of putting the two together in a series of flicks that combined elements of spy thrillers, 80's TV style (think "A-Team") action, and Playboy videos. In fact, Sidaris gave a number of Playmates opportunity to start an acting career and the likes of Julie Strain, Dona Spier, Roberta Vasquez, Julie K. Smith, and Wendy Hamilton all spent some time working with him. I loved watching his movies as they were always entertaining and contained all the elements that made low budget action movies fun. It was great because Sidaris quickly built a formula and always delivered the goods. I used to anticipate the next Malibu Bay production and was quite sad when Andy passed away in 2007.
---
CIRIO H. SANTIAGO
Chris: With just as much output as Jim Wynorski, Cirio H. Santiago made a name for himself filming extremely low-budget action movies for Roger Corman out of the Philippines. They were often knock-offs of higher-budgeted fare and starred (usually bad) martial arts champions trying to become actors. Santiago had such a mix of exploitation films in his career there's apt to be something you'd like be it the WIP effort Caged Fury, the nudity filled horror flick Vampire Hookers, or the apocalyptic action of Stryker. Even though he left us last year at the age of seventy-two his low-budget legacy, and efficiency, will live on forever.
Josh: B-movie aficionados know that this man created some of the most delightfully cheesy action movies of the 70's and 80's. Back when video stores were king, a number of movies were shot in the Philippines because production costs were low and producers such as Roger Corman knew they could depend on Santiago to co-produce and/or direct a quality product that had all the exploitation elements that American audiences were looking for. Jack Hill shot his women-in-prison flicks there with Santiago producing and Santiago himself directed a number of classic b-movies such as TNT Jackson, Vampire Hookers, Stryker, and Caged Fury. He also built a reputation with his Vietnam-adventure movies in the vein of Missing in Action such as the Eye of the Eagle series and Kill Zone. Whenever I have the chance to peruse the many out of print VHS tapes that crowd flea market tables, it is always a treat when I find a lost treasure with this guy's name on it. Sadly, he passed away last year but remains one of the great directors from the glory days of b-movies.