---
Stephen King Adaptations

THE MIST directed by Frank Darabont
Chris: Just when my faith in movies based on Stephen King's work was starting to wane thanks to multiple (passable) mini series and my general lack of interest in his latest novels, along came 1408 and The Mist. Of the two, Frank Darabont's monster flick managed to toss out some decent scares, have one of the most depressing endings in recent horror movie memory, and brought King's knack for characterizations to the screen. Darabont previously adapted The Shawshank Redemption and The Green Mile and proves the perfect choice for this amazing adaptation of one of my favourite King stories.
Josh: Just when I thought that all post-1990 Stephen King adaptations were going to forever be mediocre, along comes Frank Darabont to bring this little subgenre back to the forefront and not compromise in the process. The result is one of the best horror movies of the new millennium that reminds us why we love King so much and is a good old-fashioned creature feature with great characters and a surprisingly hopeless tone. I almost didn't see this because it is a Stephen King adaptation but have been shown that just because the work of the author has been mishandled in recent years, the stories can still shock and burn into your memory when done right.
---
THE SHINING directed by Stanley Kubrick
Chris: Despite the fact that King himself hates Stanley Kubrick's take on his 1977 novel, there's no denying this film's place in the annals of horror history. Getting a performance from Jack Nicholson in the lead that's both over-the-top and menacing as Hell and with Kubrick handling the scare scenes better than you'd expect, The Shining may have left out a few details from its source material but it's still a muscular fright flick that kept me glued to my seat when I was younger and is still effective to this very day.
Josh: King's tale of a writer who goes mad in a haunted hotel is my favorite of the King adaptations of the 80's. Although the story is fantastic, we all know that it is Jack Nicholson's performance that gives this movie a place on this list. It is probably the role that Jack is most identified with and it is impossible to imagine anyone else in the role of Jack Torrance. In addition to this performance, Stanley Kubrick's direction provides us with a series of unforgettable images including the woman in the bathroom, the hedge maze, the elevators of blood, and the creepy little girls. Once Jack goes off, we are treated to one of the most entertaining lunatics in the history of cinema.
---
CARRIE directed by Brian DePalma
Chris: Based on King's first published novel, and also the first movie taken from his work, Carrie is a memorable ride thanks mostly to the lead performance of Sissy Spacek, the prom night finale that effectively uses split-screen chaos, and Brian DePalma's spot-on direction. There's also Piper Laurie's over-the-top peformance as Carrie's religious mother and one Hell of a shock ending to consider. It may have been the start of (too) many King related movies but it's also still one of the best all these years later.
Josh: This was the first time that a King story was brought to the screen and is what brought the author into the mainstream. As with many of his other tales, this one is built around a disturbed main character who is as sympathetic as she is frightening. You feel for the title character even as she begins to destroy those who have wronged her (similar to Lucky McKee's May). This is another case of matching a great director to a great story and getting a horror movie that stands the test of time. This also provides us with the iconic image of Carrie at her prom covered in pig's blood and the shock ending that still scares me even when I know it's coming.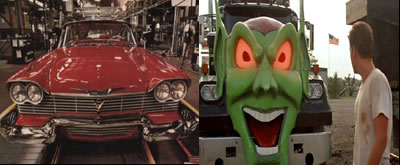 CHRISTINE directed by John Carpenter
Chris: For horror fans the pairing of King and auteur John Carpenter (Halloween) was like a wet dream come true. Luckily, for us, the final result turned out as well as it did. Unlike a lot of directors who tackle King's written work, Carpenter really seemed to understand the 1983 novel this was based on and gave his lead character, Arnie (Keith Gordon) just the right balance, making you feel sorry for him at first and spiteful of him later once the influence of the title 1958 Fury has seeped into him. Carpenter also understood to play Christine's attack scenes seriously, which worked extremely well and kept them from becoming unintentionally funny.
Josh: John Carpenter tackled King at the peak of his career right after The Thing and has forever associated George Thorogood's "Bad to the Bone" with a possessed Plymouth Fury. Keith Gordon is convincing as a nerdy teenager who falls under the spell of the evil car and an unholy relationship between man and machine is born. The tale is complemented with an impressive cast of young stars including future "Baywatch" babe Alexandra Paul and future director John Stockwell. It's all about the car in this film and Carpenter plays what could have been a dumb idea straight with great results.
---
MAXIMUM OVERDRIVE directed by Stephen King
Chris: Touted as the filmmaking debut for the author, Maximum Overdrive proved to be the only time he stepped behind the camera and it's really not hard to see why. Let me explain my stance here. This is not a very good movie. There are better ones out there. The real reason it's even on this list is simply because this is probably the guiltiest pleasure of every King movie made. It's hard to deny the entertainment value of a movie sporting an AC/DC soundtrack, a killer eighteen-wheeler with Spider-Man's "The Green Goblin" face on the grille, and multiple scenes of machines taking vengeance on human beings (including, the morbidly pleasing moment, when a kid is run-over by a steamroller). This kept me transfixed back in 1986 when I first saw it on pay TV and I still pop it in from time-to-time when I want a cheap chuckle.
Josh: The notion of machines turning against man is one that I find fascinating and this is King's take on it. Although this time the great idea ends up being a little bit dumb, you can't take away that this flick is fun to watch. Where else are going going to see a kid run over by a steamroller or a guy killed by a pop machine? Add in Emilio Estevez and a truck with a huge goblin face on its grille and you have one of the many guilty pleasures of the 80's. It's interesting that this is King's sole directorial effort and it is one of the few cases where a King adaptation missed the mark in what makes King such a great writer - the characters.