---
80's Teen Crushes

PHOEBE CATES
Chris: It's safe to say that 1982 was the year a lot of teenaged boys fell in love with Phoebe Cates. If she wasn't removing her red bikini in the now iconic swimming pool scene from Fast Times at Ridgemont High, she was busy taking an outdoor shower in a hidden cove in Paradise. Those two scenes alone made me love Phoebe, but it was her girl-next-door turn in Gremlins (and the morbid Christmas chimney story that went with it) that endeared her to me as a cute, All-American girl - who just happens to take her clothes off from time-to-time. She also appeared in cult favourite T&A comedy Private School, which just happens to co-star Betsy Russell from further down in this list. Phoebe hasn't done a lot of films but she's always been engaging when she does and still looks good to this day.
Josh: If you ever find a used VHS copy of Fast Times at Ridgemont High, you will see that the quality is never quite as good around the infamous pool scene. That is because every male teenager who rented this movie rewatched that scene numerous times in the time the tape was in their possession. The slow motion shot of Phoebe Cates removing her bikini top while Judge Reinhold masturbates is possibly the most iconic image of 80's cinema (at least to guys) and made her the number one teenage crush to horny teenagers everywhere. It's funny, when I watch this now, I don't see what all the fuss was about but I suppose this was the first exposure to the wondrous world of boobs to many of us and Phoebe will always have a special place in our memories. If you have not seen Paradise in which she co-stars with Willie Aames, I would recommend it as well if you want to see a lot more of Phoebe (wink wink).
---
DEBORAH FOREMAN
Chris: Most people will remember her from Valley Girl (and with good reason) but it's the trio of films she appeared in from 1986 that forever concreted her place as one of my favourite young stars. Her turn as the prankster Muffy/Buffy in April Fool's Day, Casey Meadows in Crown International's My Chauffeur, and appearance in the high school gang flick 3:15 made me take notice of the pretty Californian blonde. It pleased me to no end that she closed out the 80's starring in a handful of genre flicks like Waxwork, Lobster Man from Mars, and Destroyer. However, like Phoebe she hasn't been very active in the acting world last appearing in 2008 in Beautiful Loser, which marked her first role in seventeen years.
Josh: When I saw Valley Girl, I was hooked on the cutest girl of the 80's who quickly became my number one teenage crush. While Foreman did not have the rampant sex appeal of some of the other girls on the list, she was the kind of girl you would imagine being the ultimate girlfriend. Cool to hang out with, mellow, loyal, and a babe to boot. Deborah went on to star in a number of horror and b-movie classics including April Fools Day, Waxwork, and My Chauffeur before leaving acting in the early 90's to pursue a career in graphic design and later as a yoga/pilates instructor. A brief internet search reveals that she still looks amazing today (at 47) and still has that great smile. Although I wish she had made more movies than she did, it is kind of cool having that time capsule of memories from when she owned my dreams.
---
BARBARA CRAMPTON
Chris: There was no arguing amongst us when it came to including Mrs. Crampton on this list. Who in their right mind could ignore her after getting molested by a dismembered head in Re-Animator, wearing hot-as-Hell lingerie in From Beyond, and doffing her duds along with Kathleen Kinamont (Bride of Re-Animator, for ironies sake) in Fraternity Vacation. And that's nothing when you consider she was in Puppetmaster, Brian DePalma's Body Double, and Chopping Mall. There was just something about her that made me take notice, and I'm not just talking about her multiple nude scenes. Barbara just had a winning personality and it shined through. I'm definitely excited for House of Re-Animator when, and if, it eventually gets made.
Josh: Any girl who is willing be be strapped to a table fully nude and then fondled by a horny, headless corpse is pretty rad in my books. The movie was Re-Animator and it was my first exposure to Barbara Crampton. I have been a fan ever since. The fact that her character was so nice in this movie made this compromising position all the more shocking as she had a certain cuteness so you were totally not expecting so see her so exposed. Crampton went on to make a number of other great flicks including Chopping Mall, From Beyond, and Castle Freak but when I think of the crush I used to have on her, it was Re-Animator all the way. You can also see her very briefly in Body Double but this is ten seconds of Barbara you won't want to miss.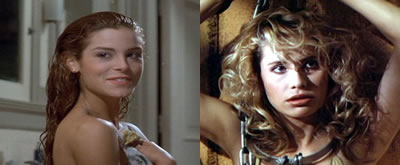 BETSY RUSSELL
Chris: Recently appearing in all the Saw movies since part three, Betsy Russell came to my attention years earlier thanks to her topless horseback riding scene in Private School, when she took over from Donna Wilkes in the second entry of the Angel exploitation series (dubbed Avenging Angel), and from being the second actress on the list to appear in a Crown International 80's sex comedy with Tomboy. Horror fans might remember her also from the minor slasher flick Cheerleader Camp. As with the other lovely ladies on this list, she also took a hiatus from acting for a while and she still looks good today, even though I think I prefer her with the darker hair of the aforementioned movies.
Josh: For those of us who remember perusing the video store shelves in the 80's, one cover that stands out is that of Tomboy with Betsy Russell where she is sitting cross-legged in a white tanktop holding a wrench. Russell's other starring roles were in Avenging Angel and Cheerleader Camp. I cannot write a blurb about Betsy without mentioning the fantastic scene where she rides a horse topless in Private School. That movie had the one-two punch of Russell and Phoebe Cates and was one of the more memorable teen sex comedies of the 80's. Russell has made a return to horror in recent years with a dominant role in all of the Saw movies from part three forward.
---
ELIZABETH KAITAN
Chris: Before her career fizzled out in an increasing number of feeble erotic low-budgeters that would be right at home on Cinemax, Elizabeth Kaitan supplied plenty of skin to such films as Slave Girls Beyond Infinity and even the seventh Friday the 13th entry but managed to do so while coming across with plenty of sex appeal, charisma, and one great smile. It's a shame she went the way of many a b-level starlet and ended-up stuck in the same worthless T&A fare like six Vice Academy movies but her story after retiring from acting makes for interesting reading as she changed her name to Elizabeth Ruiz as has been the secretary for right-wing activist David Horowitz for years.
Josh: When I think of Elizabeth Kaitan, two movies come to mind: Slave Girls from Beyond Infinity and Assault of the Killer Bimbos. After these, she had smaller roles in a number of flicks (including Friday the 13th Part 7) until she got a bit of a break by taking Linnea Quigley's place in the Vice Academy franchise. This went on until the late 90's when she took some roles in some Surrender Cinema releases such as Virtual Encounters but by this point she was getting to where she was taking roles that were no longer suited for her age. She seems to have realized this and has not been heard from since the turn of the century after getting married. She is one of the more memorable b-movie actresses who I wouldn't really considered a "scream queen".