DAVID DeCOTEAU:
On Rapid Heart, Fake Names & B-Movies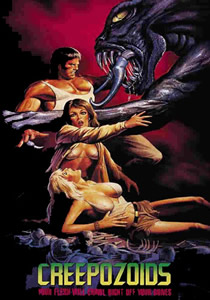 David DeCoteau is a household name among B-movie fans. He's made over 40 movies, directed many of the Puppet Master sequels and directed various types of genre films from horror, to erotic T&A fare to sci-fi.
The Video Graveyard took some of David's time to ask him about his new company Rapid Heart Pictures, his association with Full Moon and all those damn pseudonyms...
What's with all the pseudonyms? And is there any reason for you taking female names for some of your movies, especially the more "racier" ones?
There are 3 reasons: 1. I'm a member of the DGA (Directors Guild of America) and most all of those pictures were shot non union. 2. I thought over exposing my name on erotic movies would have a negative affect on my crossing over to larger budget studio pictures. 3. Some of the movies didn't turn out the way I intended. Producer interference, force hires, short schedules with little prep time, etc. I chose female pseudonyms mostly because it was the campy approach to those erotic pictures. I needed a drag name anyway!
You're considered one of Full Moon's regulars, and in fact fans say you made the best Puppet Master movie of the series (part 3).
Its amazing what a great script (written by C. Courtney Joyner), a decent budget (800k), a reasonable shooting shooting shedule (18 days) and a lengthy post production period will do for a director! I also had a fabulous 2nd Unit director (Christopher Endicott), Director of photography (Adolfo Bartoli) and Production Designer (Billy Jett). It just all came together - and what a cast!!!!! Puppetmaster 3 also had a lower budget and shorter shoot than the rest of the first 5 Puppetmaster movies.
But really it all goes back to Dreamaniac; what's the history between you and Charles Band?
I was talking with Charlie on the phone this morning. He had just read the Femme Fatales and Fangoria articles covering my career. We were laughing at the fact that when he and I met some 14 years ago we were just kids. I was 24 - he was 32! He was running Empire Pictures and I just fell in love with the guy. I think the feeling was mutual because we have made over 30 movies together. Were both obssesed with this business. I love making movies- He loves selling them! I think he and I compliment each other because even though we're very different we both love what we do and feel blessed to be doing it - full time!
How did you get involved in Ron Ford's snappy Hollywood Mortuary?
Ask any of my friends - I'm incredibly loyal. Ron Ford wrote 2 scripts for me and I enjoyed working with him. Ron called me and asked if I wanted to appear as myself in a psuedo documentary called Hollywood Mortuary. Since he and his lovely wife Paula had just started Fat Free Features, I felt obligated. I really don't like being in front of a camera but I thought what the hell. Hollywood Mortuary turned out quite well. Especially those black and white sequences. Ron is very clever and a hard worker and he has aligned himself with a great group of people who really want him to succeed. There is a family feel to his sets and he know exactly what he wants and gets it done. Ron is a doer not a talker. I respect that, especially in this town.
Is Rapid Heart the next logical step for you and is it you sort of getting away from Full Moon to do more personal projects?
Rapid Heart Pictures starts shooting its third feature at the end of this month. Its a teen shocker called Final Stab. We are following our very successfull model of shooting in 35mm Anamorphic. This expensive process has paid off with lucrative deals with major distributors. Ancient Evil: Scream Of The Mummy will be out next week from Spartan Entertainment and The Brotherhood will be available exclusively at all Blockbuster Video stores for Halloween.
Rapid Heart was launched in November of 1999 to make genre movies geared to teen audiences. All of the films will be directed and produced by me. With Rapid Heart I had made unusual deals with investors and distributors - I get creative control and final cut. This year we will produce a total of five features. Next year will be eight. I am negotiating an exclusive deal with a major company right now which I will announce in a few weeks. This deal will allow Rapid Heart to thrive much like the deal Full Moon had with Paramount Pictures.
Your best known movie is Sorority Babes In The Slimeball Bowl-O-Rama; what's the history behind it?
This movie was offered to me by Charles Band during a screening of dailies for Creepozoids. It was called The Imp and we shot it in San Marcos, California in 14 days on a 120k budget. It was released theatrically by Empire Pictures' low budget arm Urban Classics. It was a huge hit. It was the first time I had shot a film outside of Los Angeles and it was difficult. Luckily I had a really great producer named John Schouweiler. He kept it all together. Andras Jones went off to star in A Nightmare On Elm Street 4. And I think it was the first time Brinke, Linnea and Michelle worked together. Sorority Babes plays on TV all the time.
Sorority Babes was out from Urban Classics, as a bunch of your movies; what was your involvement in UC?
Like I mentioned, Urban Classics was the low budget arm of Empire Pictures. I remember sitting in the screening room talking with Irwin Yablans - he was watching a trailer for his film Prison just before we watched dailies for Assault Of The Killer Bimbos. He told me Charlie actually enjoyed the low budget films I was making more than his "A" budget pictures Irwin was making. I think UC was just a way for Charlie to have fun. I pitched him I Was A Teenage Sex Mutant (ed. note, released under the title Dr. Alien) and he said "Cool" go over to accounting and pick up your check! Its that easy with him. If he likes you, trusts you, if the budget is low enough, and if the concept is cool, its a go. He wants it tomorrow!
You've fufilled a b-movie fans dream by working with Linnea Quigley, Michelle Bauer and Brinke Stevens; what was that like?
I have been told this many times. Its funny because those girls were just buddies of mine who I loved working with. I respect their talent and professionalism. We were just having a blast. Since I'm gay I don't lust after these ladies like some people who don't know me think I do. Brinke and I laughed about this once. She said "David, you are the only director I have worked with that hasn't hit on me!" I laughed and said "If I were straight we would have been married by now!" I feel that way about all those girls. We get together and laugh our asses off like giddy school girls!!! Expect a reunion soon!
So there you have it; underneath all the monster mayhem, naked women and hacknyed plotlines is a intelligent man who knows what he wants and knows what the fans want. And though he has produced some really low-brow films we can't count him out because lurking are films like 1998's Leather Jacket Love Story.